This conference isn't a call to action. It's a response to a call that hasn't been answered

Monique Woodward, Collective Agency 2019
Our industry can action meaningful change: broader diversity, new kinds of leaders, new perspectives, louder voices

Monique Woodward, Collective Agency 2019
What are the new territories for architecture? What is advocacy within a regenerative & disruptive economy?

Monique Woodward, Collective Agency 2019
Read
WOWOWA's Monique Woodward co-curated the provocative status quo shattering conference 'Collective Agency'. Domain cited a "Rift along generational lines emerges among architects" & instant change felt within AIA National Presidents Inaugural Address. Day 1 review here.
Watch
WOWOWA & YARRA POOLS
c31: Maidstone Tennis
c31: City of Casey
c31: St Kilda SLSC
c31: Re-use of Heritage Sites
c31: Hobart
Connect
STUDIO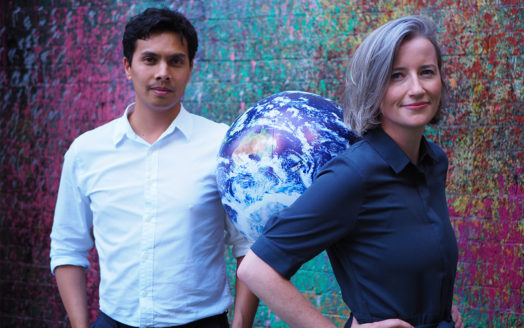 2019 National Architecture Conference
Monique Woodward is co-curating the 2019 AIA National Conference 'Collective Agency'. This will be deeply political, environmental & fresh exploring the new territories for architecture and what is advocacy within a regenerative & disruptive economy.  If you're keen on celebrating architects, thought leaders & projects that challenge the status quo, save the date: June 21 22 at Melbourne Convention Centre.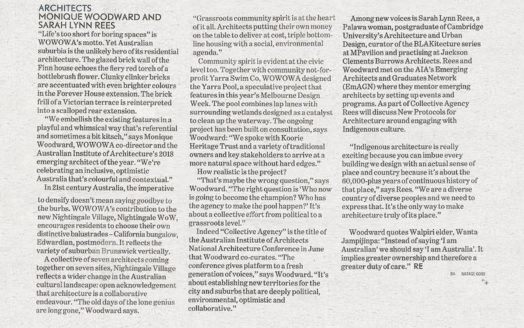 The Age January 26th 2019
Indeed "Collective Agency" is the title of the Australian Institute of Architects National Architecture Conference in June that Woodward co-curates. "The conference gives platform to a fresh generation of voices," says Woodward. "It's about establishing new territories for the city and suburbs that are deeply political, environmental, optimistic and collaborative."