I am so pleased that you are running with this project – it looks amazing!

Client, The University High School
I just want to send you both a huge dose of excitement for your incredible concept designs. WOW(OWA)!

Client, The Australian Ugliness Exhibition
Read
WOWOWA is currently exhibiting their Yarra Pools animation as part of Business of Design Week in Hong Kong with the generous support of NGV & Melbourne Design Week. Please enjoy:
Watch
WOWOWA & YARRA POOLS
c31: Maidstone Tennis
c31: City of Casey
c31: St Kilda SLSC
c31: Re-use of Heritage Sites
c31: Hobart
Connect
Instagram
Such an incredible opportunity to workshop #collectiveagency2019 with conference captains (minus Perth crew sorry.. @thefulcrum.agency @post_architecture) Thx everyone for coming @andy_fergus @_timothymoore @kerstin_thompson_architects @taniadavidge @shelleyjpenn @institute_architects_aus & hosting @clarecousins SOOOO excited!!!!!!!!
20 May
STUDIO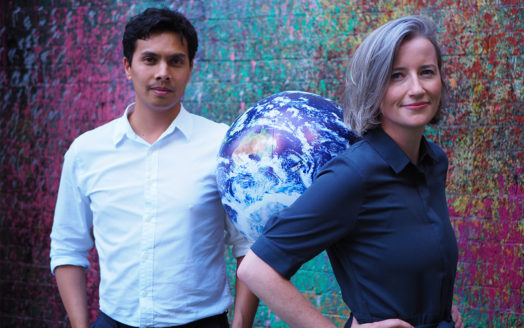 2019 National Architecture Conference
Monique Woodward is co-curating the 2019 AIA National Conference 'Collective Agency'. This will be deeply political, environmental & fresh exploring the new territories for architecture and what is advocacy within a regenerative & disruptive economy.  If you're keen on celebrating architects, thought leaders & projects that challenge the status quo, save the date: June 21 22 at Melbourne Convention Centre.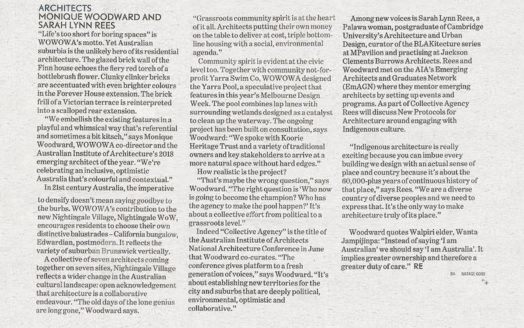 The Age January 26th 2019
Indeed "Collective Agency" is the title of the Australian Institute of Architects National Architecture Conference in June that Woodward co-curates. "The conference gives platform to a fresh generation of voices," says Woodward. "It's about establishing new territories for the city and suburbs that are deeply political, environmental, optimistic and collaborative."